It's snowing again today in upstate.  It'd be the perfect day to have a hot soup simmering on the stove all afternoon filling the house with the warm smells of onion, garlic and whatever leftover veggies I have in the fridge.  However, R does not love soup.  There are a few soups we can slip into the menu – homemade ramen for one- Campbell's tomato soup is another and recently we were able to get her to eat an orzo soup.  But generally, my love for soup is constricted because of this resistance.  Soo… we needed a warm the body and soul alternative for when the temperatures stay below 0℉.  Buddha Bowls have been our answer.  Generically a 'Buddha Bowl' is just a bunch of food in a bowl-piled high to resemble a 'Buddha' belly.   In practice, for our family, it's a great way to use up leftover vegetable bits and have a customizable dish (my crew does better when they feel they have some control over what goes on their plate er bowl).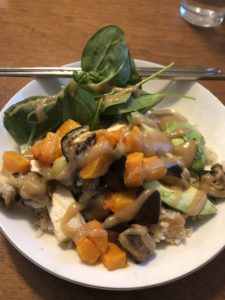 Our most recent version was served over rice- if you don't have a rice cooker I highly recommend one.  We have an InstantPot which has a rice cooker function, but we had our rice cooker first (I CAN NOT COOK RICE!) so we still use it- it makes perfect rice every time and really that's what I need. So I made 2 1/4 cups (dry) rice in the rice cooker it takes just under an hour- which isn't fast, but it's hands off so I'll take it. First I needed to press my Extra Firm Tofu for cooking – I wrap it in a tea towel and evenly apply as much pressure as possible (without having it loose its shape) in all directions.  Once it seems well pressed – I rewrap it in a new dry tea towel and place something heavy on it- usually a stack of cookbooks, last night I used a stack of pie plates I need to give away but are still taking up precious countertop space.
Next the veggies-  I peeled and diced a butternut squash we got last week at market but hadn't used yet, drizzled it with oil (I used canola but most any would work) and sprinkled with cinnamon, nutmeg and garlic.  Then I tossed it on a jelly roll pan in the oven at 400℉.  Now the eggplant -1 fresh eggplant sliced into thick 1/2 rounds- sprinkled with salt and let stand for 5-10 mins, rinse and pat dry, then cube and toss with more oil and salt and pepper and garlic.  Spread on another jelly roll pan and slide into the oven with the squash – I gave the squash a quick stir while I had the oven open.  If you have other vegetable you'd like to add cooked this would be the time, I didn't have anything else pressing to use up so I moved on.  This would be a good time to marinate your tofu… by this point all four littles were crying/fighting so our tofu never got marinated.  I did make the dressing; tahini, maple syrup and fresh lemon juice.  About a 1/3 cup of tahini, 1 Tbsp lemon juice and 3Tbsp maple syrup and then taste and adjust as necessary, I've found the type of tahini I have on hand varies the taste and proportions. Time to stir the roasting veggies again.  We were adding fresh spinach to our bowl so I prepped that and put it in a bowl on the table (to be fair @Kevin did this as he had THANKFULLY finished his call and joined me in the very loud kitchen).  By now the rice was done, I fluffed that and put it on the table, with the dressing in another bowl, sliced an avacado on a plate, and then pulled the veggies (they were mixed into one serving bowl).  Next I sliced the tofu into strips and placed them on one of the jelly roll pans used earlier and stuck them under the broiler for a few minutes while I wrangled kids to wash hands and finish setting the table. The tofu was then put in another serving bowl and placed on the table and everyone began filling their bowls.  My kids are generally pretty good eaters and I don't think anyone of them left more than one ingredient off their bowl – a success!